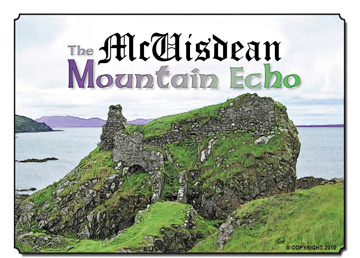 A Major Announcement!
Castle Dunscaith, shown above, was the home of the Clan Uisdean family at least by 1469, when Uisdean MacDonald (known historically as Hugh of Sleat) received official confirmation of his title to the peninsula of Sleat on the Isle of Skye, which is located off the western coast of Scotland. Our family comes from him. McUisdean means sons of Uisdean and many families trace back to this single man.
For about 50 years I have been studying the amazing history of our family, which includes the names McQuiston, McQuistion, McCuiston, McCuistion, McQuesten, McQueston, McQuistion, McQuistian, McQuestion, McQuistin, and probably a few I have missed. This history also covers at least some whose surname is McChristian.
I have added to and rebuilt this web site a few times since first posting it in 1996. Since it was all done a little at a time, the story was a bit fragmented.
In 2002, I produced a hardbound book called McUisdean. I decided, in order to tell this story the right way, I needed to republish that book. I chose a paperback, this time, to lower the cost to the reader. It is available on amazon.com.
The hardbound book was $44.00, but this new paperback, with 50 extra pages, for a total of 280 jam-packed pages of family history, will only be $29.95, through amazon.com.
There will never be another book like this, and I will not be rewriting it again. Meanwhile, I am redoing the information normally found on this site, but I do not expect that to be done for a year or more.
At 66-years-old, I have put just about everything I have into this book. I have traveled to Scotland three times, to Ireland and Northern Ireland, to England and other European cities where Celtic culture had a significant role. I have traveled all up and down the east coast of the United States, where our Colonial history took place. I also traveled to Ontario, Yukon, and Nova Scotia, Canada.
In Ontario, Tom McQuesten built the famous Rainbow Bridge between Canada and the U.S., plus much of the Niagara Falls park system and many other major projects throughout Ontario.
In Yukon and Alaska, Captain Jack McQuesten was known as the Father of Alaska and Father of the Yukon. Jack London got many of his stories from Captain Jack, and mentions our name in four books, including Call of the Wild, and in four short stories, as well as in an essay on Captain Jack.
In Nova Scotia, Sir Ian MacDonald, the current Chief of Sleat, is also the premier Baron of Nova Scotia. While there, I saw so many people who looked just like my aunts and uncles, though most carried the MacDonald name, or others closely related to us.
We are related to Robert the Bruce, hero King of Scotland, and to the Lords of the Isles, who controlled many islands off the coast of Scotland, as well as much of the Highlands, and parts of Northern Ireland, for many centuries. Clan Uisdean, alone, reign supreme as the MacDonald leaders for over 150 years. That is a heck of a long time!
My book covers so much ground, from our royal descent to our association with the Knights Templar, to family treasures, and famous battles, and just about every drama that makes up history.
You can find out how we were part of the very first people ever to be called Scotch-Irish, or Scots-Irish if you prefer. You can find out we commanded a large chunk of Scotland and Northern Ireland, how we aided dramatically in the America Revolution, how Captain Jack dominated the Great White North, and you can read about our many family castles, most of which are still standing, but often in a state of ruin.
There is just so much to be found in this book, and nowhere else!
No one ever has, nor will they ever likely attempt to do the travel, research, analysis, and writing that I have to make this book come to life.
Please think about purchasing a copy, or several, so that it remains a testament to our family for generations to come.
I have spent thousands of dollars, which I never expect to recoup, and thousands of hours on this book. It has been my life work and it is dedicated to all the members of Clan Uisdean, no matter how you say or spell your last name.
Thank you,
Jim